Falta cada vez menos para el lanzamiento de JUMP Force, el juego de lucha de Bandai Namco en el que se unirán los héroes y villanos más conocidos de las publicaciones de la revista Shonen Jump.
En el día de hoy, mediante la cuenta oficial de Twitter de Bandai Namco Europa, se anunció que entre el 18 y el 20 de enero estará disponible una beta abierta del juego, indicando los horarios de las distintas sesiones así como de los escenarios y personajes que podremos disfrutar durante su duración.
The Open Beta Test of #JumpForce is coming!
Get ready to play online versus with 17 Characters on 5 stages from 18th to 20th of January. #Unite2fight pic.twitter.com/NiqvUd1P2q

— BANDAI NAMCO Entertainment Europe (@BandaiNamcoEU) January 10, 2019
Así, habrá 4 sesiones disponibles para probar el juego:
Sesión 1: 18 de enero 9 a.m. a 12 p.m (horario Argentino)
Sesión 2: 19 de enero 2 a.m. a 5 a.m. (horario Argentino)
Sesión 3: 19 de enero 13 p.m. a 16 p.m. (horario Argentino)
Sesión 4: 20 de enero 17 p.m. a 20 p.m. (horario Argentino)
En total podremos disfrutar de 17 luchadores que serán los siguientes:
Monkey D. Luffy (One Piece)
Himura Kenshin (Rurouni Kenshin)
Vegeta (Dragon Ball Z)
Frieza (Dragon Ball Z)
Barbanegra (One Piece)
Toguro (Yu Yu Hakusho)
Hisoka (Hunter X Hunter)
Gon (Hunter X Hunter)
Sasuke (Naruto Shippuden)
Seiya (Saint Seiya)
Goku (Dragon Ball Z)
Roronoa Zoro (One Piece)
Yusuke Urameshi (Yu Yu Hakusho)
Ichigo Kurosaki (Bleach)
Rukia Kuchiki (Bleach)
Kenshiro (El Puño de la Estrella del Norte)
Naruto (Naruto Shippuden)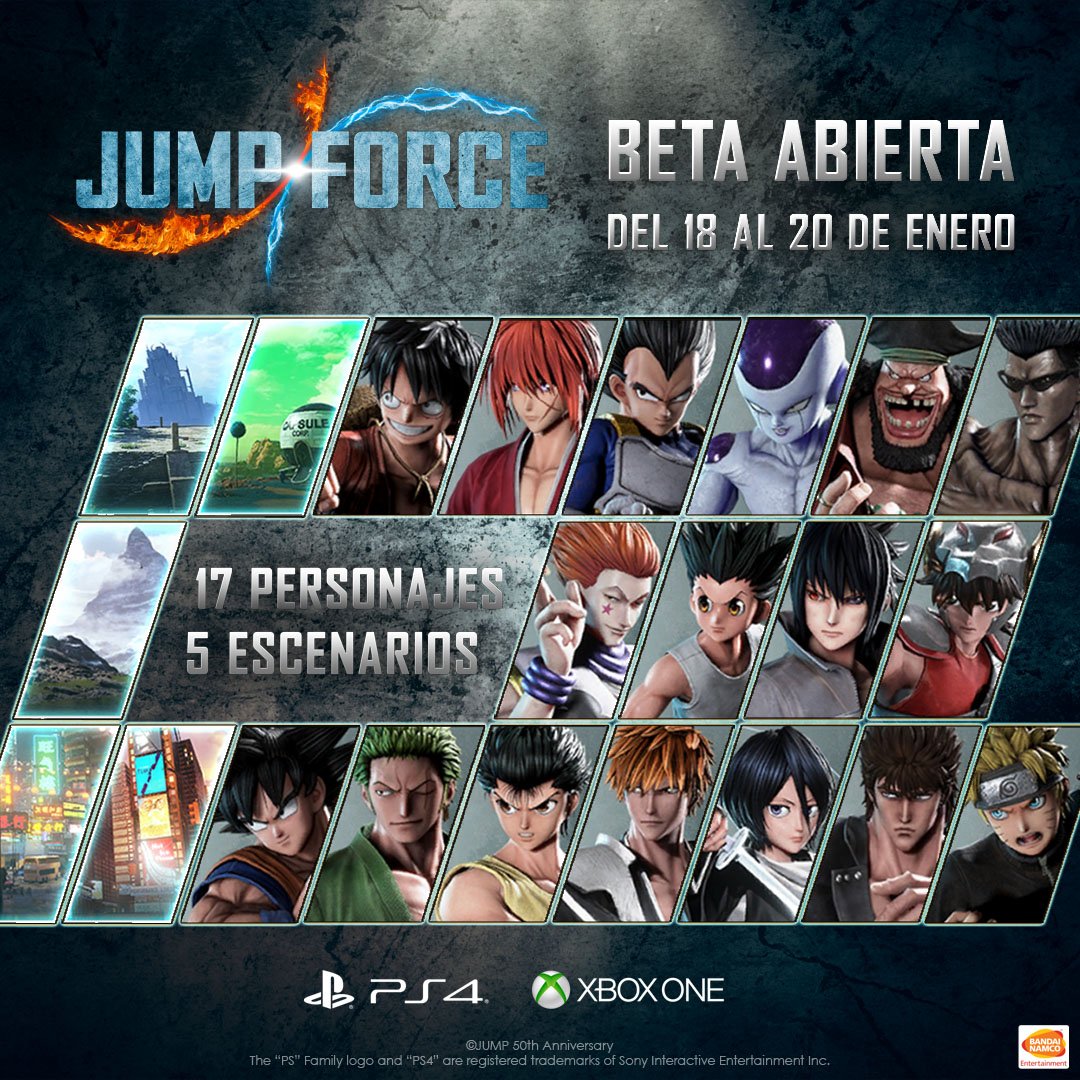 Además, habrá 5 escenarios disponibles:
México
Namek
Matterhorn
Hong Kong
Nueva York
JUMP Force será lanzado el 15 de febrero de 2019 para PlayStation 4, Xbox One y PC.