Varias fuentes han avistado durante las últimas horas un menú que presenta la opción de alquilar juegos desde la PlayStation Store de Estados Unidos. Todavía sin confirmación oficial por parte de Sony, las revistas
MP1st
y
PSN Stores
señalan una interfaz no funcional que permitiría alquilar el título
Catherine
para PlayStation 3.
El usuario cuenta con las opciones de alquilar el juego durante un día, siete días o bien durante 30 días. En todos los casos se muestra que el servicio sería gratuito, pero esto probablemente responda a la naturaleza temporal del menú. Las nuevas opciones aparecieron después de una actualización en la tienda PlayStation estadounidense, la cual se retrasó unos días por motivos desconocidos hasta hacerse pública finalmente hace unas horas.
Desde PSN Stores han descubierto que activando la opción de "alquiler por 1 día" se añade una entrada a la lista de servicios de PS3 denominada "Catherine PS Now", que sin embargo presenta una fecha de caducidad de un mes tras la activación. El nombre mostrado sugiere que las nuevas opciones forman parte de las funcionalidades de PlayStation Now, el próximo servicio de juegos en streaming de la firma japonesa.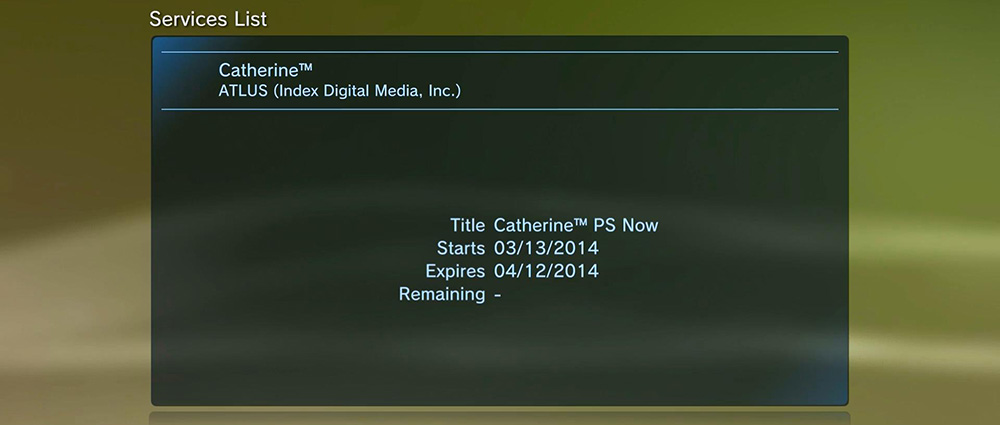 Esta misma semana se han filtrado los posibles precios de varios juegos de PS Now gracias a un concepto de la interfaz del servicio. De confirmarse la imagen, Far Cry 3 estaría disponible a partir de 5,99 dólares, Uncharted 3 por 4,99 dólares y The Last of Us por 49,99 dólares. En los tres casos se puede observar un letrero que reza "juego completo" y no se dan detalles sobre el tiempo de acceso que permitirían esos precios.
El servicio PlayStation Now llegará a lo largo de este año a Norteamérica pero no llegará a Europa hasta primavera de 2015. Sony ha reconocido que la disparidad entre ofertas y conexiones de banda ancha dificulta la llegada del servicio de streaming basado en Gaikai a nuestro continente.
Fuente: MP1st / PSN Stores