No cabe duda que una de las cartas más fuertes que posee Microsoft es Xbox Game Pass, y dicha compañía lo sabe. En el día de ayer, durante la realización del Inside Xbox de la X2019, anunciaron que este servicio de suscripción contará con muchos títulos que harán que más de uno la adquiera.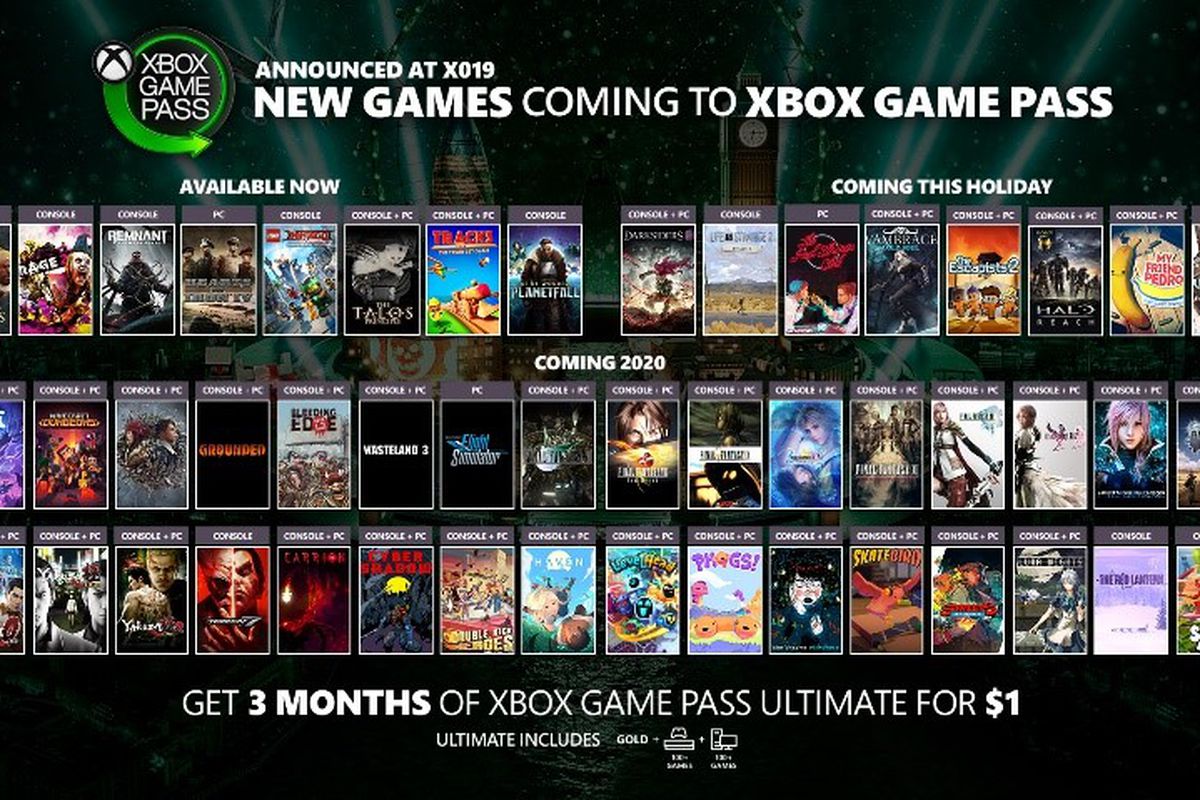 Así, tendremos algunos juegos que ya están disponibles como RAGE 2 para Xbox One o Age of Empires II: Definitive Edition para PC, mientras que entre Navidad y 2020 llegarán The Witcher III: Wild Hunt para Xbox One, Darksiders III para ambas plataformas y grandes sagas como Final Fantasy, por citar algunos.
A continuación pueden ver el tráiler con el anuncio de todos estos grandes títulos que llegarán a Xbox Game Pass para Xbox One y PC, junto con el listado de juegos.
Ya disponible
Xbox One

Age of Wonders: Planetfall
The LEGO Ninjago Movie Video Game
Rage 2
Remnant: From the Ashes
The Talos Prinicple
Tracks: The Train Set Game

PC

Age of Empires II: Definitive Edition
Hearts of Iron IV
The Talos Prinicple
Tracks: The Train Set Game
Llegarán durante las Fiestas
Xbox One

Darksiders III
The Escapists 2
Halo: Reach
Life is Strange 2: Episode 5
My Friend Pedro
The Witcher 3: Wild Hunt
Vambrace: Cold Soul

PC

Darksiders III
The Escapists 2
Halo: Reach
My Friend Pedro
The Red Strings Club
Vambrace: Cold Soul
Llegarán en 2020
Xbox One

Bleeding Edge
Carrion
Cyber Shadow
Double Edge Heroes
The Dreams Elsewhere
Final Fantasy VII
Final Fantasy VIII Remastered
Final Fantasy IX
Final Fantasy X | X-2 HD Remaster
Final Fantasy XII: The Zodiac Age
Final Fantasy XIII
Final Fantasy XIII-2
Final Fantasy XV
Grounded
Haven
LevelHead
Lightning Returns: Final Fantasy XIII
Minecraft Dungeons
Ori and the Will of the Wisp
Phogs
The Red Lantern
SkateBIRD
Streets of Rage IV
Supraland
Tekken 7
Tell Me Why
Touhou Luna Nights
Wasteland 3
Yakuza 0
Yakuza: Kiwami
Yakuza: Kiwami 2

PC

Bleeding Edge
Carrion
Cyber Shadow
Double Edge Heroes
The Dreams Elsewhere
Edge of Eternity
Final Fantasy VII
Final Fantasy VIII Remastered
Final Fantasy IX
Final Fantasy X | X-2 HD Remaster
Final Fantasy XII: The Zodiac Age
Final Fantasy XIII
Final Fantasy XIII-2
Final Fantasy XV
Flight Simulator
Grounded
Haven
LevelHead
Lightning Returns: Final Fantasy XIII
Minecraft Dungeons
Ori and the Will of the Wisp
Phogs
SkateBIRD
Streets of Rage IV
Tell Me Why
Touhou Luna Nights
Wasteland 3
Yakuza 0
Yakuza: Kiwami
Yakuza: Kiwami 2